Domino's Pizza UK: Sustaining the Growth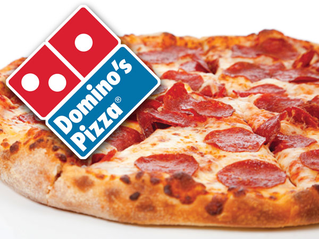 Domino's Pizza UK – Quality at an Unreasonable Price?
Domino's UK's business model is high margin, highly efficient, and spins off cash.
However, LfLs in its recent Q3 statement were down (from +14.7% in Q3 2015 to +10.5% for its important UK market, which accounted for 93% of group revenue in the period).
Meanwhile, DOM shares continue to command a premium, trading on 22x forecast earnings with a PEG of c1.9, at 320.36p (following a recent share split).
This premium valuation remains even after the shares having fallen 5% on results day and 3% the day after. Today (Monday) they are down another 3%.
Lower Quality Growth…
In recent quarters, Domino's UK has moved increasingly from opening stores in new areas to splitting existing trading areas between units.
In the year-to-date, 34 of 51 new stores have been created by splitting existing trading areas rather than establishing new ones — the UK market is finite.
On 08 June 2016, Domino's UK spent £24m on acquiring 'significant minority stakes' in Domino's Iceland, Norway, and Sweden.
These markets are noted as having 'an aggregate population of 15 million'.
Valuation, valuation, valuation…
Domino's UK's main drivers of growth now appear to be splitting existing UK trading areas and acquiring stakes in overseas master franchisees.
While the group continues to remain attractive in terms of business model, we question whether its valuation range of 20-25x PE is justified in light of its changing strategy.
Sustaining growth…
If Domino's UK is indeed looking abroad for its growth, Domino's Pizza Poland stands out as a natural acquisition target.
The World Bank says Poland has an urban population of 23 million and it is rapidly modernising its transport and infrastructure thanks to billions in funding from the Eurozone, which views the country as strategically important.